Chuck Ringering, a professional Machinist by trade, is hand-crafting ACCURATE & RUGGED WICKETS and we are offer them for an extremely reasonable price!
If you own a breed who has size DQs, it is a good idea to know the exact height of your dog. You never know when a judge will decide to wicket your show dog!
You should also be prepared for an exhibitor to "call a wicket" on your dog. Even if your dog will obviously measure in, that does not mean an exhibitor will not call a wicket on your dog. AKC dog show rules are very specific on how a judge wickets a dog. Judges are allowed one time (and only one time) to wicket a dog. Many dogs object to the wicket being swung over their backs. If your dog does not stand for being measured, the judge has to excuse the dog as being "unable to measure." Your competition may just try to eliminate you that way… bad sportsmanship… but it can, and does, happen!
Make sure you are prepared by having your own wicket at home, in advance for practice.
Don't wait until it's too late. Be prepared, and order yours now!
Contact us for more information
---
Show Dog Wickets For Sale
Prices:
LARGE $35.00 – measures 17" to 32"
MEDIUM $30.00 – measures 12" to 22"
SMALL $30.00 – measures 8" to 14"
CUSTOM SIZES and STYLES are also available by special order. Please let us know what you need.
Note: Prices do not include shipping. Shipping is based on your distance from Missouri and actual shipping costs, which are fairly reasonable, because the wicket materials are fairly lightweight.
Please send us your zip code and we will calculate shipping costs for you! Contact us to order or just to request more information.
---
Chuck commissioned to create official measuring Wicket for Guinness Book of World Records!
Show Dog Wickets are not easy to find, but now, Chuck's amazing skills as a professional Machinist are becoming internationally known.
He was chosen to create an official SHOW DOG WICKET to measure the "World's Shortest Cat" for the Guinness Book of World Records.

On Friday, March 28, 2014, Cye, a Munchkin cat in Kitchener, Toronto, Ontario was named the shortest cat in the world by the Guinness Book of World Records.
Chuck's custom hand-crafted Show Dog Wicket was THE wicket used to measure the cat and make it official!
see the NEWS VIDEO at GLOBAL NEW TORONTO
---
Testimonials from our happy OFFICIAL WICKET owners:
Joss Gets Measured!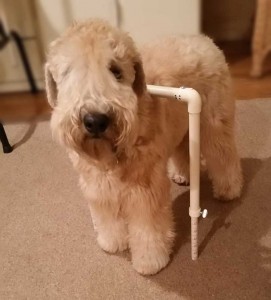 Kathy,
Here is my 1 year old Wheaten Terrier "Joss" (Ceili's Soul on Fire) measuring herself since it's hard to take this picture from my phone without help.
The goal was to clearly be under 18″ and she measures right at 17 1/2, where she should be!  She clearly wasn't thrilled with this maneuver but she really doesn't object to me using a wicket which will bode well when we get her measured for the agility ring.
Thanks for this very neat contraption! The perfect wicket to practice with!
Take care,
Suzanne Stone 🙂
---
"BRILLIANT DESIGN"
This is a brilliant design! Simple, but works.
This is a great idea that I will recommend to other breeders.
Thanks!
—Frances Kingery
(Queenstown, Maryland)
(Frances has Chinese Crested dogs)
---
 "THANKS"
Hi Kathy,
The wicket arrived in time, and it is absolutely everything I need! Thanks for the fast turn around time and the visual on how to put it together.
THANKS!
—Dr. Sharon Manning, Icon Harriers & Beagles
---
"A ZIP TO PUT TOGETHER"
Hi Kathy and Chuck!
I LOVE my wicket! It came in today's mail, it was a zip to put together, easy to use! Thank you!
I am forwarding your site to everyone in my breed that I know is concerned with (measuring) size."
—Monica C., Illinois
---
"SO MUCH EASIER…"
Kathy and Chuck,
Just got my medium Wicket. Awesome!!!!!
So much easier and more accurate than the dowel kind.
Thanks so much."
—Tina McGuire
---
"VERY ACCURATE"
Hi Kathy !!!!
We love our new wicket. It has simplified measuring on so many large breeds !
Please use this as my testimony as I am very pleased in the service, shipping and packaging.
Most important— it is very accurate!
Best Regards,
—Cassandra Robak (A Groovy Groomer) in Hamilton, Ontario, Canada
---
Please send us your zip code and we will calculate shipping costs for you! Contact us to order or just to request more information
---