Thanks to the Spirit of the Heartland Kennel Club, Chuck can now hold classes
in a beautiful room at Wag'n Tails Retreat.
Article about Chuck Ringering's Classes.
Original article published at the DAILY JOURNAL ONLINE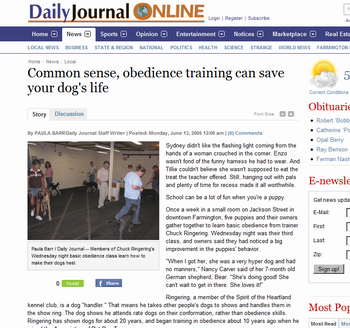 COMMON SENSE, OBEDIENCE TRAINING CAN SAVE YOUR DOG'S LIFE
By PAULA BARR (Daily Journal Staff Writer) ©2005 Daily Journal, Park Hills, MO
Members of Chuck Ringering's Wednesday night basic obedience class (below) learn how to make their dogs heel.
Sydney didn't like the flashing light coming from the hands of a woman crouched in the corner. Enzo wasn't fond of the funny harness he had to wear. And Tillie couldn't believe she wasn't supposed to eat the treat the teacher offered. Still, hanging out with pals and plenty of time for recess made it all worthwhile.
School can be a lot of fun when you're a puppy.
Once a week in a small room on Jackson Street in downtown Farmington, five puppies and their owners gather together to learn basic obedience from trainer Chuck Ringering. Wednesday night was their third class, and owners said they had noticed a big improvement in the puppies' behavior.
"When I got her, she was a very hyper dog and had no manners," Nancy Carver said of her 7-month old German shepherd, Bear. "She's doing good! She can't wait to get in there. She loves it!"
Ringering, a member of the Spirit of the Heartland kennel club, is a dog "handler." That means he takes other people's dogs to shows and handles them in the show ring. The dog shows he attends rate dogs on their conformation, rather than obedience skills. Ringering has shown dogs for about 20 years, and began training in obedience about 10 years ago when he joined the Association of Pet Dog Trainers.
"Through them I have taken lots of classes on how to teach dog classes, work with dogs, and work with problem dogs such as those with aggression problems," Ringering said. "It's very rewarding."
He offers basic obedience classes throughout the year to dogs of all ages. Many of his clients are referred to him by local veterinarians or find him in the phone book. During classes, Ringering teaches owners how to teach their dogs basic commands including sit, stay, lie down and heel. On Wednesday, he taught them "Leave It!", one of the two commands he considers most essential: Leave it and come.
"These are the two commands that can save your dog's life," he explained. "If you spill heart medicine, Advil, sinus medication or other things that can kill your dog, you don't want to have to fight your puppy to pick it up."
A well-trained dog also should stop, turn, and return to the owner at the command "Come!", which could save the dog's life if it was headed toward traffic or other impending danger, Ringering added.
Puppies on leashes came charging into class Wednesday night, tails wagging, noses sniffing as they happily greeted their new friends. There was Tillie, the towering 10-month-old mastiff and Dizzy, the 13-week-old Great Dane. Their size, or anticipated size, made it clear why they were there.
"I figured if the dog was going to be as tall as me and as heavy as my husband, I'd better get some obedience training," said Dizzy's owner, Lori Smith.
For such a huge dog, Tillie was very timid when she started the class, said owner Rhonda Bales. "Last week, I couldn't even get her in the building," Bales said. "This week, she came right in. The best tip I've learned is how to keep her attention with food."
This week's bag of treats for Tillie contained goldfish crackers. Tillie received one every time she did something good. That could mean paying attention, sitting on command, or playing nice with the other pups.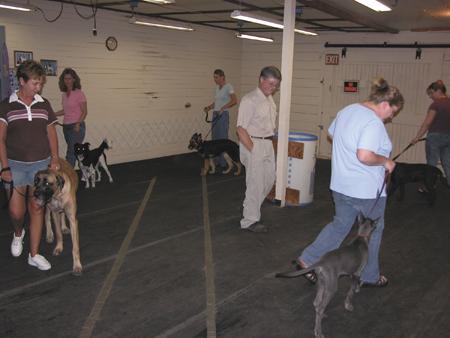 Enzo, a 5-month-old chocolate Labrador retriever, fidgeted while Ringering fitted him with a Gentle Handler nylon harness. The contraption applies gentle pressure when Enzo tries to lunge forward to help teach him to walk quietly next to owner Jen Miller.
"A dog has to point his nose forward to pull," Ringering explained. "The Gentle Handler has a strap across the nose so when he tries to pull forward, gentle pressure on the side of his nose turns his head."
Enzo tried to lunge forward, and sure enough, his nose turned slightly and he stopped.
"Bummer!" his expression clearly said.
"It's making a big difference," Miller said. "He doesn't try to pull as much and he stays closer to me instead of trying to go after the other dogs."
This was the first time Sydney had seen a camera flash, and it was scary. While the other dogs were learning how to refuse food, Sydney was barking at the dangerous person in the corner who was making lightening happen inside.
Ringering showed owner Jenny Lewis how to handle her puppy's fear. He enticed her close to the camera with food and encouraging sweet talk. The puppy eased over, sniffed the camera and soon was happily licking the offending human. Sydney had a few more barks for the camera flashes, but no longer acted fearful.
Working with puppies requires patience, but much of their mischievous behavior disappears once they mature. Sometimes, the key to training is to use your common sense, Ringering explained.
"A woman once called me complaining that her puppy was destroying her shoes by chewing the heels off," Ringering recalled. "I told her I hadn't had a puppy destroy shoes in many years and she asked me how I managed that.
"I explained to her that I simply put the shoes up where the puppy couldn't get to them."