Puppy Alert!  See our Upcoming Litters page for details.
Double Ring Kuvasz is the breeder of many current and past TOP TEN Kuvaszok in the USA!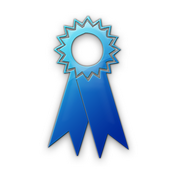 Pretty Kuvasz faces, Sound conformations and Superb temperaments!
Active in the Kuvasz breed Since 1989. We strive for QUALITY in everything we do.
Watch our new blog for all the latest news and show results.  WHATS NEW BLOG
Show Dog Wickets for Sale! If you are looking for our custom made wickets. please see our

wickets page

.
Our Kuvasz Puppies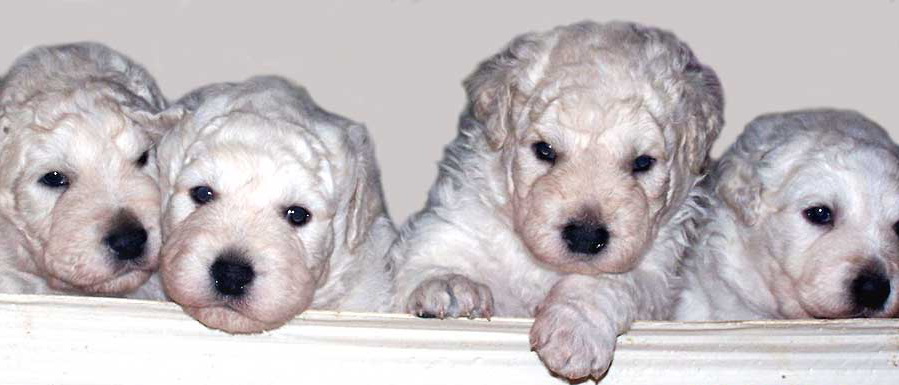 Champion-sired, premium quality puppies out of Champion bitches are occasionally available to qualified show or companion homes. Please see our Upcoming Litter page.
Our Kuvasz breeding stock is OFA and thyroid certified.
We are a small Missouri kennel that tests extensively and are dedicated to the health of future generations of Kuvasok. We believe in honest disclosure of our official health & DNA test results, both good and bad. We openly disclose those records with the Orthopedic Foundation for Animals database and publish them right here on each dog's individual page. Visit OFA to use the searchable database to check out the parents of any litter you may be considering.
We provide a written contract and guarantee of health on all our Kuvasz puppies.
We offer only a very few select Kuvasz litters a year.
Our Kuvasz puppies are extensively socialized, well-adjusted, stable, and raised in our home, not a kennel. On rare occasions, we have older puppies, or Kuvasz adults, available for sale, or adoption, to qualified and loving homes.
For an opportunity to own your own Double Ring Kuvasz puppy, advance reservations are strongly recommended.
For Kuvasz puppy inquiries, please see our upcoming litters page for complete details. To learn when puppies will be available and to find out how to get on our waiting list contact Kathy.
---
Our breeding philosophy is to emphasize the total package: Health, Temperament & Conformation.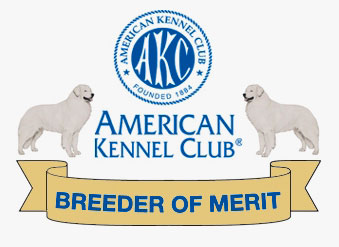 We are proud recipients of the AKC Breeder of Merit Program. This program honors breeder/exhibitors' dedication and hard work as they continue to produce dogs that are healthy, capable, and beautiful." For more info, visit the AKC website.
Please join in and send us your updated high quality pictures of your Double Ring Dogs at home with the family or in the show ring!  All pictures are welcome and we'll try to work them into this new website.
---